Brave Voice Spring Fling: A One-Day Retreat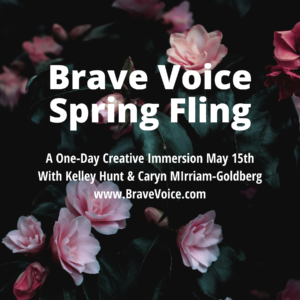 Join us Saturday, May 15th for a special Brave Voice retreat from our homes to yours. We'll create together via Zoom and other interactive bells and whistles, and as in the past, we will explore what we have to say, sing, or write across the miles. Through what we create together, we can cultivate greater meaning, vitality, and direction for our brave and magical lives. We can also celebrate the arrival of spring and so much more health, safety, and joy in the world.
Schedule: May 15th: Times are CST/ please adjust for your time zone
9:30 – 10 a.m.: Welcome and creative introductions
10 a.m.-11:30 a.m.: Writing Into Courage and Clarity: workshop with Caryn Mirriam-Goldberg
noon-1:30 p.m.: Break for lunch and contemplation, including time to eat together in break-out rooms
1:30-3 p.m.: Singing and Songwriting: workshop with Kelley Hunt (with 15-minute break)
3-5: Mini coaching sessions with Kelley or Caryn
6-6:30: Visiting (and eating if you wish) together in break-out rooms
7-7:30 p.m.: Collaborative performance with Kelley and Caryn
7:30-9 p.m.: Coffeehouse of Wonder: Open mic with participants to share writing, music, and other wonders
Registration: The registration fee includes the whole retreat and ample handouts. You need to have the capacity on your computer to use Zoom (and we can send you information to help you download the app). The fee is $110. You may pay by Venmo (@Caryn-Goldberg-2, and please email us to confirm), by check (email us for the address), or Paypal. 
What People Say About Our Virtual Retreats
"The Brave Voice message of self empowerment and opening up our creative selves really works! I feel renewed and ready to get back into my writing projects." 
"This was the first Zoom session I've attended since March that didn't feel like a Zoom session. For a first time online experience, this Brave Voice was excellent. It felt like you've been doing it this way for years."
"I was amazed how organized and how I had no difficulty getting on line. My past experiences have been a little rough at times due to some learning curves, but this was wonderful."
"I found the retreat especially relaxing and regenerative. I have so many new ideas for songs, poems, and even (thanks to Dianna) smoothies!"
"This is one of the best gifts I could give myself in a pandemic. I am ready to rock and roll!"
"While I miss being at Brave Voice in person, I was amazed at how much I got out of this, and not just all I created but all the new friends I made. I am inspired like I haven't been in months."